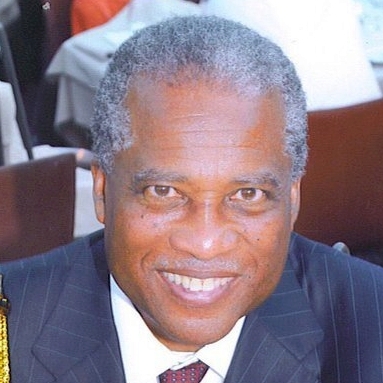 In Memory of Jerry Wayne Varnado
The Jerry Wayne Varnado Ethnic Studies Scholarship Fund established by Jerry R. Varnado in honor of his father, Jerry Wayne Varnado, recognizes and provides financial support to promising undergraduate students in the College of Ethnic Studies who are preparing themselves to be productive and socially conscious members of society.
Jerry Wayne Varnado passed away on September 8, 2021. He graduated from Jim Hill High School in Jackson, Mississippi in 1962 as Mr. Jim Hill, a promising high achiever. However, he was determined to leave the south and aspired to go to school in California. He joined the Air Force and upon discharge used his veteran benefits to go to college. Jerry moved to San Francisco to live with his aunt, who lived within walking distance from San Francisco State University (SFSU). He was admitted to SFSU in 1966, initiated into Alpha Phi Alpha Fraternity, Inc., in 1967, and then as his brothers recognized his leadership potential and was immediately elected chapter President.
Jerry earned a BA in Economics from San Francisco State University in 1969 and later a JD from the University of California, Hastings College of the Law. As a student at SF State, Jerry was involved with the Negro Students Association and co-founded the Black Student Union (BSU). In 1968, Jerry and his fellow BSU leaders established a coalition with the Third World Liberation Front, other students, faculty, and community members and organized the nation's longest student strike to protest the lack of access, misrepresentation, and the overall neglect of indigenous peoples and people of color within the University's curriculum and programs. The demands of the strikers reflected a respect for the diverse intellectual traditions and cultural expressions of scholars, activists, and artists of color and indigenous people throughout the United States. The strike gave way to tenure for minority instructors to include his mentor Dr. Nathan Hare and open enrollment for African American students to include Danny Glover and Clarence Williams. Historically, SFSU as a 4-year non HBCU, admitted more African American freshman in the fall of 1969 than any other U.S. university ever.
The activism and sacrifices of Jerry and the strikers were the impetus for the founding of the College of Ethnic Studies with departments in Africana Studies (formerly Black Studies), American Indian Studies, Asian American Studies, and Latina/o Studies (formerly La Raza Studies) in 1969. Their efforts enabled future generations of students at SFSU to learn about the histories, cultures, and intellectual traditions of communities of color and indigenous peoples in the U.S. in the first-person and also, practice theories of resistance and liberation to eliminate racism and other forms of oppression.
Jerry Wayne Varnado lived a life of leadership, mentorship, and support to his community, family, and friends. After completing his studies at SFSU and his law degree, Jerry married Marilyn D. Varnado (BA '77 & MPA '85), the love of his life and practiced law in the San Francisco Bay Area. Jerry and Marilyn raised two sons, Jerry R.H. Varnado and Charles C. Varnado.