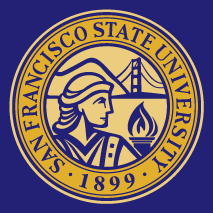 Jerold and Phyllis Rosenberg
Jerold Rosenberg has said that "you never know when brilliance will come out in a student". In this spirit, he created the Jerold Rosenberg Family Scholarship to ensure that promising individuals with talent are given a chance to succeed.
The Rosenberg Scholarship supports recipients through the duration of their education at SF State, at both the undergraduate and graduate level, after their freshman year. Mr. Rosenberg tailored the scholarship to support students who have not yet reached their full potential due to financial or personal circumstances. The scholarship is available to students earning between a 2.5 and 3.25 GPA to ensure that these students get access to the resources they need to flourish.
Jerold Rosenberg earned his Bachelor of Arts degree at San Francisco State in 1962. During the summer session of 1964, Jerold was a participant in the San Francisco State around the world tour, a pivotal learning experience.​" Jerold completed graduate work at San Francisco State and attended University of California Hastings College of the Law. In 1968, he established The Rosenberg Company, a full insurance brokerage company, where he continues to work.
Impact
Chalyna Lazo, the only child of a single mother, grew up in San Francisco, although a world away from the affluence generated by the latest tech boom. Her mother, a health care professional, faced kidney failure and saw most of her salary consumed by the dialysis treatments keeping her alive. Working part-time allowed Chalyna to contribute what she could to their living expenses, but she was determined to do more. "My number one life goal is to make sure my mom is alive and healthy to stay around longer and see me succeed," she says.
This commitment to secure a future for herself and her mother led Chalyna to enroll at SF State as a Women and Gender Studies major with a minor in Communication Studies. Chalyna viewed this as a critical step toward her chosen career as a social policy analyst—a career that will allow her to provide support to her mother while addressing vital social issues, such as unemployment, poverty and homelessness. When Chalyna received a Jerold Rosenberg Family Scholarship, she discovered how scholarship support can mean all the difference when time and resources are stretched to the limit.
"My presence at SF State would not be possible without the generosity of your family. I am humbled, honored, and very grateful to have been awarded the Rosenberg Family scholarship. Knowing that your family is investing in my future, I am able to pursue all that San Francisco State has to offer and continue my studies in Women & Gender Studies and Communications."
-Chalyna Lazo, Recipient of the Jerold Rosenberg Family Scholarship