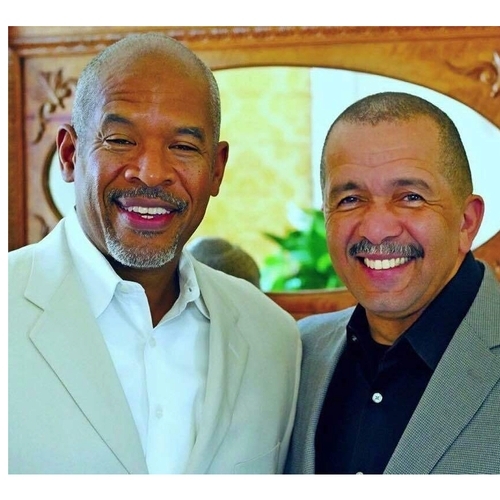 The Lang-Monteiro Family
The Student Activist and Advocate Endowed Scholarship established by The Lang-Monteiro Family honors the tradition of social justice centered, student empowerment, advocacy, activism and leadership exemplified at San Francisco State University. The Student Activist and Advocate Endowed Scholarship will recognize, and provide financial assistance to, students who are committed to developing their own leadership potential through engagement in social justice roles on campus and applying their skills and resources to addressing needs in their constituent communities.
Perry L. Lang, D.Div., is a multi-faceted leader with experience as a journalist, non-profit manager, and interfaith spiritual leader. An ordained minister, Rev. Lang earned a Bachelor of Arts in Communications Journalism from City University of New York at City College, a Master of Divinity from the New Thought Theological Seminary in Atlanta, Georgia, and holds a Doctor of Divinity in Interfaith/Metaphysical Studies.
Rev. Lang served as executive director of the Rafiki Coalition for Health and Wellness, formerly known as the Black Coalition on AIDS, from 2003 until his retirement in 2017. He led the organization's mission to stop the spread of HIV/AIDS and eliminate health disparities in San Francisco's Black and marginalized communities. Under his leadership, Rafiki Coalition provided health and wellness services including transitional housing for people living with HIV/AIDS, health education, advocacy, health case management, trauma resiliency and mental health circles, as well as other health-promoting activities. Rev. Lang received recognition from the NAACP and San Francisco Mayor Ed Lee for his work with the Black Coalition on AIDS. San Francisco State University also recognized Rev. Lang and the coalition with its 2006 Community Service Awards.
Prior to his work at Black Coalition on AIDS, Rev. Lang was a seasoned journalist of 20 years who was also vice president of the Robert C. Maynard Institute for Journalism Education in Oakland and co-founder of the Bay Area Black Journalists Association. He wrote for the San Francisco Chronicle for more than a decade and he underscored the realities of the Black community and the coverage of that in mainstream media. "I wanted to give a voice to the underrepresented. I saw that there was a civil rights struggle, and people like my uncle, a serviceman, were never quoted. They needed to be included, and someone needed to tell their story," Rev. Lang said in a 2013 Bay Area Reporter article. "We need to have a media that's reflective of the community they cover."
Rev. Perry, as he is affectionately known, is the former Associate Minister of the historic Church for the Fellowship of All Peoples in San Francisco and former Director of the Fifth Sunday Interfaith Circle, a quarterly multi-faith fellowship. He is also Executive Director of Triumph of the Human Spirit, a musical production and CD enterprise that examines the resilience of the human spirit through the legacy of the American slave trade.
Rev. Lang is the oldest of three children, born to grandparents and parents who escaped the limitations of sharecropping in the south (Alabama and Georgia) and moved north (New York) during the Great Black Migration in America. He is the heir of factory workers and entrepreneurs, who bought and leveraged homes so their children's lives could be better; he embraces a family voting legacy that includes both Democrats and Republicans.
Kenneth P. Monteiro, Ph.D., is former dean of the College of Ethnic Studies – the first college of ethnic studies in the nation – former acting director of the college's César E. Chávez Institute, University Dean of Human Relations and Chair of the Department of Psychology. He is currently Professor Emeritus of Ethnic Studies and Psychology.
Before teaching at SF State, Dr. Monteiro was on faculty at the University of Illinois at Urbana-Champaign and at Rutgers University at New Brunswick. Dr. Monteiro received his Ph.D. from Stanford University in experimental psychology with a specialization in cognitive psychology, and his bachelor's degree cum laude (A.B.) in psychology from Dartmouth College.
Dr. Monteiro is both a first-generation college educated and only second generation formally educated at any grade level family member. His grandparents born in the late 1800's migrated to the then Jim Crow USA from the, then, Portuguese colony of Cabo Verde, the Portuguese's most prized outpost for their enslavement trade, trade made them the wealthiest European nation of that time at the expense of African lives, almost a century before the rise of Spanish or English domination of the trade. The determination and achievements of his grandparents' and parents' generations motivated and informed his desire for an education that would offer opportunities to address structural inequities inherited through the sequelae of slavery, racism and across related oppressions.
Throughout his 40-year professional career, he has passionately advocated for fully accessible and relevant public education, where relevant means drawing from and serving the students' backgrounds in a manner that liberates their minds and opens equitable opportunities for their lives. He has taught over an estimated 10,000 students.
Dr. Monteiro served for over ten years on the Associated Students and Student Center Governing Boards as either the faculty or administrative representative. He served either on the board, as a faculty consultant or on the committee for each of the murals on the exterior of the César Chávez Student Center. For almost 20 years, he taught a leadership course for Associated Students board members and later for Associated Students' Project Connect. In February 2018, Associated Students bestowed on Dr. Monteiro an honorary membership to their Board of Directors and named an endowed scholarship in his honor, the first ever for a living faculty member or administrator.
Dr. Monteiro has published in a range of areas including emotion and memory; culture and thought; ethnic, racial, gender and sexual identity; and academic and reading achievement for African American, Asian American and Latino youth. His edited text, Ethnicity and Psychology: African, Asian, Latino and Native American Psychologies, has been used nationally to bridge ethnic studies and psychology courses addressing these communities.
He has served two terms as a national board member for the Association of Black Psychologists and is a past president of the American Association of Blacks in Higher Education. He is also a former board member of the National Association for Ethnic Studies and former chair of the California State University Council on Ethnic Studies, the body that led the way for passage of the historic Weber Bill AB 1460 which required that the over 500,000 California State University students take at least one authentic Ethnic Studies course, an action that was the impetus for similar movements in the University of California and the California Community College systems, impacting the quality of education to over one million students.
The two have been partnered domestically since 1990 and currently reside in Palm Springs, CA. Their blended family included three children and three grandchildren. They met socially during a birthday salute at the Eagle Creek Saloon in San Francisco, a Black, gay-owned establishment that was a safe haven for Black-same-gender-loving men. They were named community grand marshals for the 2013 San Francisco Pride Parade. The honor bestowed to them recognized their work to eliminate racial barriers and bring attention to issues that affect the Black community including racial tension, economic disparity, and misconceptions about African Americans in straight or LGBTQAI+ spaces.