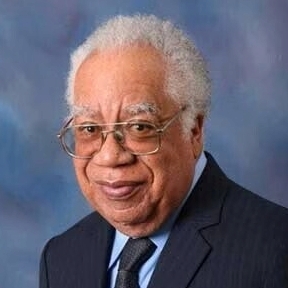 In Memory of Joseph L. White
Joseph L. White, Ph.D.
Joseph L. White, Ph.D. (1932-2017) was a renowned psychologist and activist who revolutionized the way people of color are understood in psychology and who improved diversity on college campuses. He passed away on November 21, 2017, while flying to a family gathering in St. Louis, Missouri.
Born on December 19, 1932, in Lincoln, Nebraska, Dr. White moved to San Francisco after high school and had aspirations to become a waiter, but friends encouraged him to enroll at SF State, which he did in 1950. In his junior year, Dr. White began to consider a career in psychology. "I had never met a Black psychologist before. I was the first Black psychologist I had ever known" said Dr. White in 2008.
Dr. White graduated from San Francisco State University in 1954 with a bachelor's degree in psychology, followed by a master's degree in 1958. In 1961, he was the first African American to earn a Ph.D. in clinical psychology and developmental psychology from Michigan State University and one of five African Americans in the country to hold a doctorate in psychology. He returned to San Francisco State University in 1968 as a faculty member and an administrator.
In 2008, San Francisco State University inducted Dr. White into the Alumni Hall of Fame and named him Alumnus of the Year. "Every door has been opened to me since I attended San Francisco State," said White said when getting inducted. "And it allowed me to open the doors for others."
At the height of the civil rights movement, Dr. White emerged as a powerful voice of change: challenging psychologists to understand better the unique experiences of ethnic minorities. In 1968, he helped found the Association of Black Psychologists and his seminal article in Ebony magazine in 1970 laid the foundations of Black psychology, which introduced Black perspectives into mainstream psychology.
In response to students' demands during the 1968 strike at SF State, Dr. White was influential in establishing the University's Africana Studies Department (originally, known as the Black Studies Program), the first of its kind on an American four-year college campus. Dr. White, who was professor of psychology and dean of undergraduate studies at the time, shaped a curriculum that continues to speak to the needs of people of color today.
During his time at California State University, Long Beach, Dr. White helped found the Educational Opportunities Program (EOP), which grew into a statewide program providing supportive pathways for disadvantaged students to study at CSU campuses. Through his personal mentoring, Dr. White inspired countless Black, White, Asian American, and Latino students to excel in academia.
Dr. White spent much of his career in higher education at the University of California, Irvine, from which he retired as professor emeritus of psychology and psychiatry.
Dr. White was the recipient of many prestigious awards including the Citation of Achievement in Psychology and Community Service from President Clinton in 1994, the honorary Doctor of Laws from the University of Minnesota in 2007, and Alumnus of the Year from San Francisco State University in 2008. Dr. White also served as a trustee with The Chicago School of Professional Psychology.
Dr. White's family has a multi-generational relationship with San Francisco State University. He met his first wife, Myrtle Escort White, on campus with whom he had three children: Lori Suzanne White, Lynn Nanette White, and Lisa Diane White. Lisa and Lynn pursed bachelor's degrees at San Francisco State University just like their father and mother. Lisa and Lori pursued careers in higher education like their father.