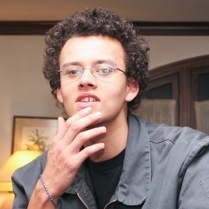 Family and Friends of Kyle Campbell Whitham McLeod
Kyle Campbell Whitham McLeod, a 22 year old African-American senior studying history at San Francisco State University, died in 2007. Kyle loved reading, music of all kinds, and history, particularly Latin American history. He made fast and deep friendships, often introducing his friends to classic rock, blues, or reggae music or to books by his favorite authors. He was sensitive to the plight of others, whether friends in need or the homeless he met in the streets of San Francisco. Kyle often spoke in anger at the continuing rise in California State University fees, aware that he had family able to help him while others struggled to stay in school.
Kyle's parents, Gearey McLeod and Cynthia Whitham, and sister Miranda McLeod—with the generosity of family, friends, and colleagues—created a scholarship at SF State in Kyle's honor. In Kyle's memory, each year a junior at SF State in good standing, majoring in Latin American History, whose values reflect concern for the others, is awarded a partial scholarship which the awardee may use to lower his or her fees in the next year. Recipient of this generous gift is chosen by the History Department Faculty each year.