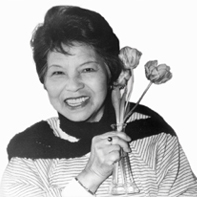 Family of Diana T.Y. Chung
The Diana T.Y. Chung Memorial Scholarship was established in 2004 with a generous donation from her husband, Mr. Henry Chung, and was San Francisco State University's first-ever scholarship for international students.
Mrs. Diana T.Y. Chung was born on April 3, 1919 in Hunan, China and was the youngest of six children. A physical education teacher and avid athlete in China before she moved to the United States in 1948, Diana Chung was also a longtime supporter of educational causes. She helped finance the rebuilding of a school in her hometown of Changsha, China, and together with her husband Henry, sponsored many students and scholars from China to attend SF State. The Chungs also helped establish an orientation and training program at SF State for Chinese scholars and, over the years, have generously donated to various SF State endeavors.
Diana was a successful entrepreneur and business woman. In 1974, Diana and Henry Chung opened the Hunan Restaurant, introducing the spicy cuisine of their native Hunan, China province to San Francisco. Due to her hard work and business savvy, the business prospered and today there are six successful locations of the restaurant in San Francisco, all still owned and operated by the Chung family. Diana was also interested and talented in real estate investment with a keen eye for valuable properties. She remained active in real estate management until her final years.
In her spare time, Diana enjoyed music, calligraphy, painting, landscape design, traveling and spending time with her family. She visited every major continent and enjoyed sightseeing and learning about other cultures and foods. Just like the old Chinese saying, "Traveling ten thousand miles is worth more than reading ten thousand books," her travel experiences greatly contributed to her appreciation of other cultures and to her achievements in business.
In 2002, Diana Chung was diagnosed with pancreatic cancer, and after a courageous fight with the disease, she passed away peacefully at home surrounded by her family on April 10, 2003.
"Diana Chung believed very strongly in the values of higher education to better one's life, career and community," said Henry Chung, Diana's husband of 57 years. "With this scholarship, we hope to help students from other countries earn college degrees and then utilize their knowledge and skills to the benefit of their families, home country and the United States."
Impact
2016 Diana T. Y. Chung New Student Award Recipient: Anna Bugankova
Selected to receive the "New Student" award is Ms. Anna Bugankova, an international student from Russia. Anna began her studies at SF State in Fall 2016 and is currently pursuing a Bachelor's Degree in Psychology with a concentration in Industrial/Organizational Behavior. Anna came to SF State after attending City College of San Francisco where she earned an overall GPA of 3.7. Upon completing her studies at SF State, Anna plans to apply to law school and hopes to eventually become a lawyer and help others to obtain a better education and assist them with pursuing their career opportunities in the U.S. as well as helping to reunite separated families.
2016 Diana T. Y. Chung Continuing Student Award Recipient: King Yaw Soon
Selected to receive the "Continuing Student" award is Mr. King Yaw Soon, an international student from Malaysia. King began his studies at SF State in Fall 2015 after studying Digital Animation for three years at The One Academy in Malaysia. Currently, King is pursuing a Bachelor's Degree in Cinema at SF State. During his time here at SF State, King has completed 2 semesters with a cumulative GPA of 3.94. While in Malaysia, King received several awards for having directed, written and edited the music video for a national tv station in Malaysia as well as for his sketching, artistic and creative abilities. He also won several top awards at his school in Malaysia for his academic achievements. In addition, while at SF State, King received several awards for his film production and logo design talents. Furthermore, King is also an avid volunteer, serving as a pianist and keyboardist with his church, volunteering with the SF Film Society, designing logos for various organizations and serving as a volunteer with the international student orientation program. After earning his B.A. degree at SF State, King plans to pursue one year of Optional Practical Training in order to gain some work experience in the U.S. film industry.