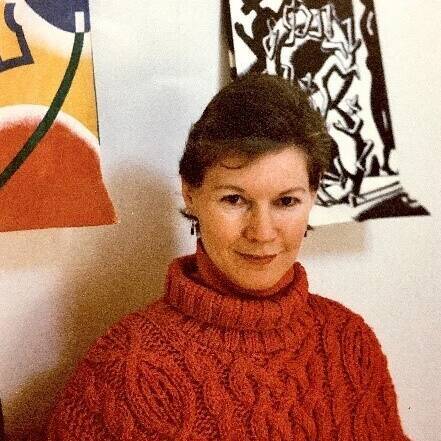 In Memory of Elizabeth June Madden-Zibman
by Marielle VZ and Josh Bryant and Dan Zibman
Elizabeth June Madden-Zibman/June E Madden grew-up in a working-class neighborhood in Philadelphia, attended Catholic school graduating in 1969. Her Mother, Marie, a wonderful person, married a Philadelphia policeman when Elizabeth was five. Marie was not married when she gave birth to Elizabeth in 1951. Marie had two additional children, one, a boy, six years younger than Elizabeth, the other, a girl, twelve years younger. Growing up, Elizabeth was known as June and still is to her family and old friends (including the friends she made at SFSU).
Although Elizabeth wanted to go to college after high school, her family could not afford this and no one knew how to do it. So, she worked in an office, took a trip to England with friends from high school and, then, moved to Hollywood, FL with two of her best friends. She met a guy there and married him. That marriage lasted nine months and then the marriage was annulled. She returned home to Philly, disappointed and uncertain of her future. She was twenty-four.
As someone who always worked, she took an office job in center city Philly and started attending classes at Philadelphia Community College. Working full-time while carrying a full course load, she finished in eighteen months and applied to attend San Francisco State University in order to pursue a BA in creative writing. Not only was she accepted at SFSU, but also she was awarded a scholarship. With her then boyfriend and a friend who wanted to move to San Francisco, Elizabeth drove cross-country. Upon arriving in SF, she and her boyfriend broke up and classes began. While at SFSU, like always, she worked, this time at I Magnin, then San Francisco's premier department store. She would tell hilarious stories about her time working at "Magnin's," the fascinating people whom she met, the crazy experiences she had.
She loved being a student at SFSU which she attended because, at the time, it was one of the few universities that offered a BA in creative writing and from where she received her degree in 1979.
One of her memorable stories goes like this:
Returning to the house she was renting in SF late one night after classes, her street was blocked and filled with klieg lights (the large lights used in making movies) and people were all over the street. She asked a police officer if she could get to her house which was "…right there." The cop directed her to the store on the corner. When she entered, she told the first person she saw that she was exhausted from having worked all day and having attended classes that evening. The person asked her to sit at one of the tables with a few others. One of those at the table asked what she was studying, "Creative writing," she answered. "Do you have any poetry?" she was asked. So, she read a couple of her poems which those there enjoyed. A few minutes later, they asked if she would like to go to dinner with them. She graciously declined. She had been invited to dinner with Donald Sutherland and Leonard Nimoy (Spock from "Star Trek") who were there filming, "Invasion of the Body Snatchers."
San Francisco is a city known for, among other things, the "Beat Poets." These writers established an active and vibrant atmosphere of poetry readings and other similar events beginning in the late 1940s. By the time Elizabeth arrived there, that "scene" had grown to include many students from SFSU, Cal/Berkeley and other colleges, etc. in the Bay area. Elizabeth dived in becoming active in the SF "poetry scene' reading her poetry to the many listeners at different spots, but, especially, at City Lights Bookstore, owned by Lawrence Ferlinghetti, one of the original "Beats." Her writing was published in the SFSU literary magazine, "Transfer." She was "in her element" and thriving. Lizzie made numerous friends in San Francisco, traveled around California (Yosemite, the mud baths at Calistoga among other places), enjoyed the "disco scene," went for a ride in a glider and came to consider San Francisco her "City by the Bay."
Upon graduating from SFSU, she was awarded a fellowship to remain there in order to attend graduate school. Lizzie declined that award as she had "unfinished business" back home in Philly. She returned in order to search for her birth father. Eventually, she found him and began building a relationship with him which lasted the rest of her beautiful life.
-
Thanks to poetry, Elizabeth, then thirty-one, and I, thirty-six, met on a cold, November Saturday night in center city Philly in 1982. She was one of the founders of a poetry group called, "Open Mouth Poetry." She organized monthly readings at various bars, bookstores, pastry shops and other venues willing to host a poetry reading on a Saturday night. These readings were hugely popular and always overflowing with writers, artists, musicians and students.
We were married in August, 1984 and Lizzie gave birth to our darling daughter in February, 1986.
When she was fifty-four, she returned to college, receiving an MFA in Creative Writing from Fairleigh Dickinson University and one year later started teaching in the writing program at Rutgers University in New Brunswick, NJ.
Her death, in May, 2016, from a rare form of cancer that kills only women, when she was sixty-four, has altered our perception of life causing us endlessly to ask, "Why?"
Everyone who knew Lizzie, loved her. She was the personification of empathy, intelligence, creativity, energy and beauty.
To paraphrase from the poet WH Auden,
"She was my North, my South, my East and West,
My working week and my Sunday rest,
My noon, my midnight, my talk, my song"
The Elizabeth June Madden-Zibman Memorial Scholarship is one way we remember her and hope that this award helps a deserving SFSU student continue turning her dreams into reality.