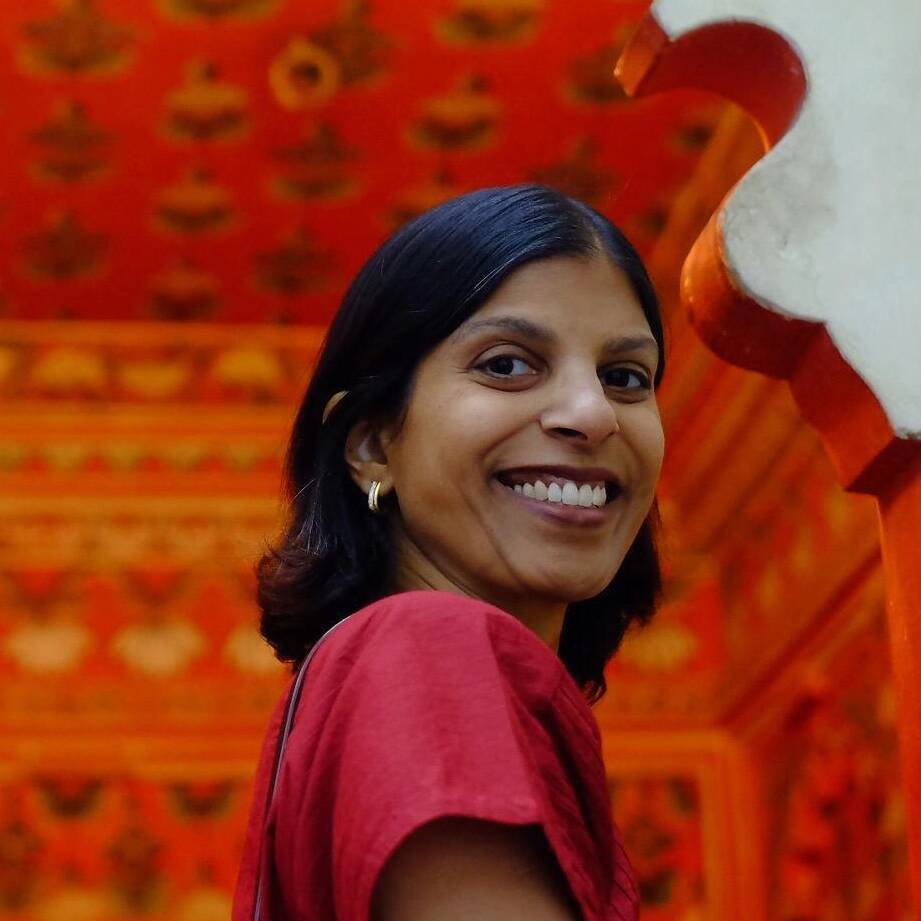 In Memory of Dr. Anantha Sudhakar
Ven Sudhakar, Chandra Sudhakar, and Ramesh Kathanadhi are endowing the Anantha Sudhakar Memorial Scholarship in the Asian American Studies Department. The memorial scholarship established in honor of Associate Professor Emerita of Asian American Studies Anantha Sudhakar recognizes her deep commitment and extraordinary dedication to social justice and the education of undergraduate and graduate students. She embodied the best qualities and values of Asian American Studies and Ethnic Studies.
Dr. Anantha Sudhakar passed away on August 11, 2021, from complications of metastatic breast cancer surrounded by her family. She is survived by her father, Ven Sudhakar, and her mother, Chandra Sudhakar, and her husband, Ramesh Kathanadhi. She is deeply missed by her family, friends, colleagues, students, and alumni.
Dr. Sudhakar received a BA in English and Women's Studies from the University of Virginia in 1998, an MA in English from the University of Washington in 2000, and a PhD in English from Rutgers University in 2011.
Dr. Sudhakar's brilliance was recognized early on. During graduate school, she worked passionately to amplify the voices of emerging writers at the Asian American Writers Workshop (AAWW) in New York City. Before beginning her professorship at San Francisco State University, she received two Andrew W. Mellon fellowships as well as a Chancellor's Postdoctoral Fellowship in Asian American Studies at the University of Illinois Urbana-Champaign. Her groundbreaking published research focuses on Black and Asian cross-racial solidarities, and on South Asian American art and activism. Most recently, she wrote about her difficult journey with metastatic breast cancer in the anthology Untold: Defining Moments of the Uprooted (Mango and Marigold Press, 2020).
Dr. Sudhakar joined the faculty of the College of Ethnic Studies at San Francisco State University as assistant professor of Asian American Studies in 2012. She was promoted to associate professor in 2019, four years after receiving her metastatic diagnosis and after enduring multiple rounds of chemotherapy, radiation, and a liver surgery. In 2020-21, she served as Assistant Dean of the College of Ethnic Studies. Throughout it all, she rejected heroism and maximized joy. Dr. Sudhakar was conferred the honor of associate professor emerita of Asian American Studies at her retirement in spring 2021.
Dr. Sudhakar was known for her gifted teaching and mentorship to students, and for her valued leadership and advocacy with the faculty and administration for enhanced resources and inclusion of Asian Americans at all levels. She inspired students and colleagues for decades with her extraordinary Asian American literature, art, and culture courses. She educated students on South Asian experiences in the United States and on Asian American women, alongside theory and history of Asian Americans in the United States. At SF State, she served as first or second reader on more than 15 master's thesis projects.
Dr. Sudhakar's research interests encompassed several crucial intersections within the fields of Ethnic Studies and Asian American Studies. Her scholarship touched on key questions around the South Asian American diaspora, arts activism, gender studies, and queer theory. Over the last decade, Dr. Sudhakar transformed this scholarship through her activism.
Dr. Sudhakar was a tireless leader of racial and gender justice, most prominently within the South Asian American community. She inspired an entire generation of scholars and activists through her work with various organizations and collectives. She was a board member of South Asian Magazine for Action and
Reflection (SAMAR), South Asian American Digital Archive (SAADA), a non- profit organization that digitally preserves South Asian American history, and of the South Asian American Women's Creative Collective (SAWCC), an arts activist organization that promotes the creative work of South Asian women artists in the U.S. and Canada. Anantha also served as an organizer for the Bay Area Solidarity Summer (BASS), an annual five-day political action camp for burgeoning South Asian American youth activists.
Over her time at SF State, Dr. Sudhakar impacted hundreds of lives every year — both undergraduate and graduate students have been changed by Dr. Sudhakar's mentorship. Under her guidance, countless students have transformed their educational endeavors due to Dr. Sudhakar's unwavering support. Even after students graduated from SF State, Dr. Sudhakar's impact continued far beyond the classroom as she continued to share her experience and knowledge with compassion.
Dr. Sudhakar lived with intention. She brightened everything she touched, extending love, compassion, and care to people in all facets of her personal and professional life. Her life, teaching, and scholarship reflected the tradition of community engagement, student-centered learning, and drive to work toward a more just and caring society. She epitomized the grounding mission of the Asian American Studies Department at SF State.
Dr. Sudhakar also built a life outside of work filled with food, laughter, adventure and relationships. She was a proud aunty and took particular care to let children know how much they mattered to her. She made lifelong friends, and cultivated those relationships for decades, cherishing each one uniquely. She loved good food, good desserts and good wine in equal measure, and found that all of them improved when shared with friends and family. She also was fond of watching TV, sitting on the couch under a blanket with her dog Baldwin on her lap, and reading young adult literature, which she did long before it was a "professional interest." Life didn't have to be exciting or boring or easy or anything to interest her… and she would want the same for you, to be able to celebrate the little things, stay curious, reach for the big things, and trust in yourself that you are more than enough. Dr. Sudhakar would have been the first person to encourage you to apply for this and every scholarship that interests you.
Dr. Anantha Sudhakar's spirit of generosity, kindness, thoughtfulness, and courage will live on and continue to impact students through the Anantha Sudhakar Memorial Scholarship Endowment.